Bangladesh Agricultural University BAU Admission Circular 2019-20 session is open now. Several websites, especially the official website of BAU, are corresponding everything related to BAU Admission Circular 2019-20. Here, on this post, we'll share the related information for BAU Admission Circular 2019-20.
Bangladesh Agricultural University is one of the most expected and reputed state-funded universities in Bangladesh. Each academic year, some 50, 000 students show their interest in getting admission under several faculties.
Also read: All Public University Admission Information Bangladesh 2019-20 [Latest Update]
Bangladesh Agricultural University BAU Admission Date 2019-20
Bangladesh Agricultural University BAU Admission Circular 2019-20 session along with others public universities admission circular now is available. According to the university admission office the date of Admission test is set on November 10 , 2019
Bangladesh Agricultural University BAU Admission Notice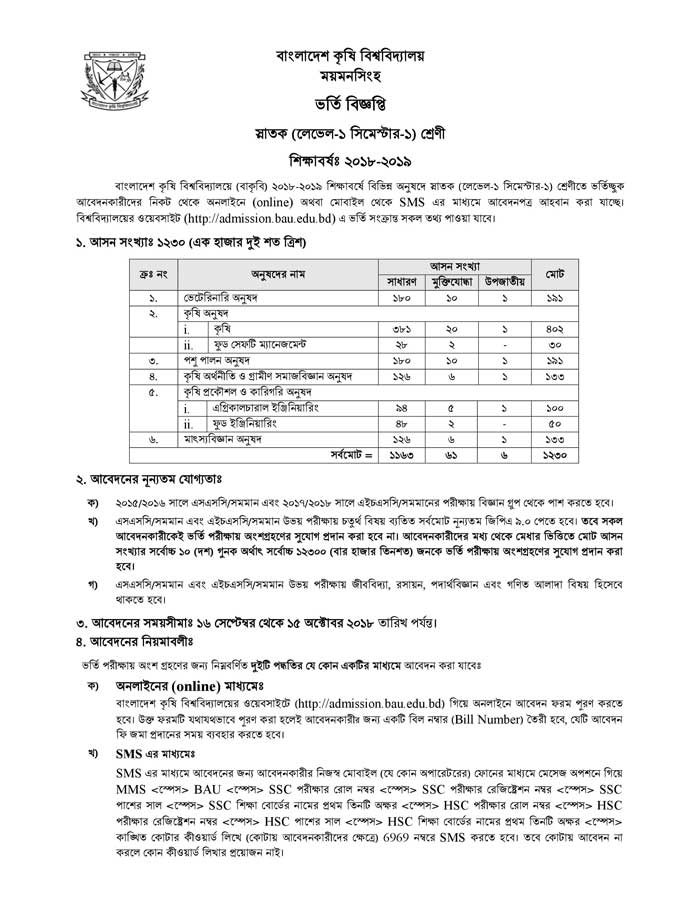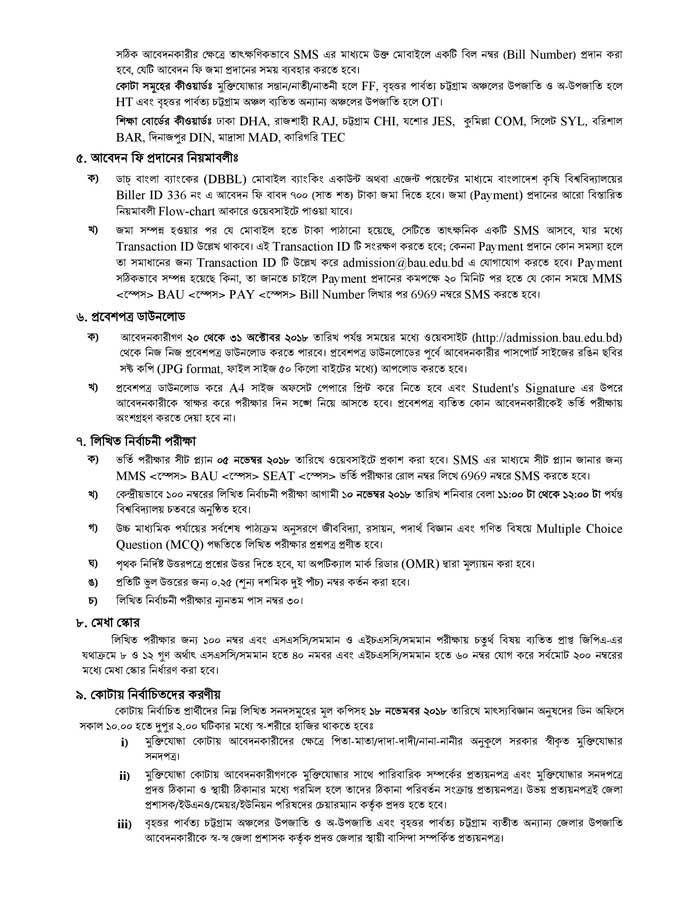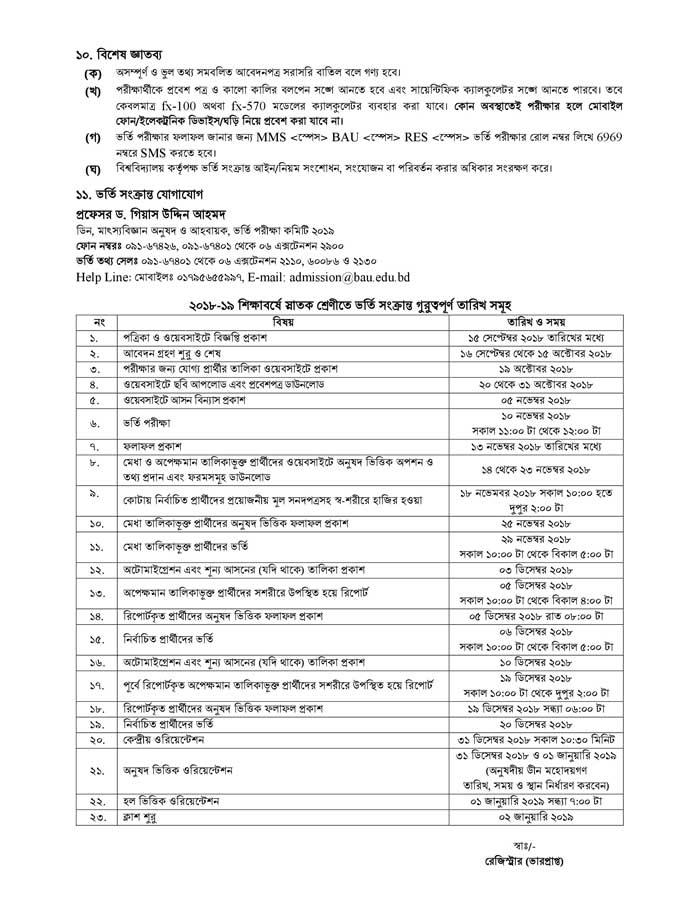 Bangladesh Agricultural University BAU Total Seat Number
Bangladesh Agriculture University is a prominent public university in Bangladesh. Each year, thousands of students after completion of HSC from science seat in admission test to get admitted in BAU. But, due to lack of enough seats very few of them get a chance. However, each year, 1230 students get enrolled including freedom fighter quota and other quotas.
| | |
| --- | --- |
| Name of the Faculty | Amount of Seats |
| Faculty of Veterinary Science | 191 |
| Faculty of Agriculture (Agriculture- 402 + Food Safety Management- 30) | 432 |
| Faculty of Animal Husbandry | 191 |
| Faculty of Agricultural Economics & Rural Sociology | 133 |
| Faculty of Agricultural Engineering & Technology (B.Sc. Agri. Engg. 100 + B.Sc. Food Engg. 50) | 150 |
| Faculty of Fisheries | 133 |
Bangladesh Agriculture University Admission Requirements
What to do to be eligible for getting admission in Bangladesh Agriculture University BAU? Anyone from Bangladesh or any foreign country can apply for admission here meeting minimum requirements.
Applicant must be from the science group
Passed SSC and HSC or equivalent 2017-2018
Minimum GPA 9.00/10.00 without fourth subjects
Applicant must have Biology, Chemistry, Physics and Math
BAU Admission Important Date
In this section, all the necessary information including Bangladesh Agriculture University admission form, Bangladesh Agriculture University admit card, Bangladesh Agriculture University migration results, Bangladesh Agriculture University merit list and waiting list you are looking for are showcased below. Some date might be changed for unavoidable circumstances. The authority concerned preserve this right.
Admission Form Available: 14th September to 14th October 2019
Eligible Student list: 19th October 2019
Admit Card Available: 20th to 31st October 2019
Seat Plan: 1st November 2019
Exam Date: 10th November 2019
Admission Result: 17th November 2019
Admission Form (Selected Candidate): 23rd November 2019
Migration Result: 7th December 2019
Waiting List: 10 December 2019
Class start: 1st January 2019
How to Apply For the BAU Admission Test?
There are two ways to apply for BAU admission test for the undergraduate course. Both of the ways are secure. So, you can try through…
How to Apply Online for BAU Admission?
Official website of BAU serves the admission procedure. Click here, you'll head to the proper place to apply.
Fill the application form.
Provide accurate information.
Bill no. Will be available. Save it. Later, pay admission fee using this no.
How to Apply for BAU Admission through SMS?
An applicant also can apply through SMS with any mobile operator. But, it should be skipped, instead, you can try online.
What is SMS Format for BAU Admission?
SMS format for BAU admission for undergraduate program is quite simple. Just ensure the correct keyword with a space after each keyword. This is the format presented below.
Type BAU <Space>
SSC Roll <Space>
SSC Registration <Space>
SSC Passing Year <Space>
SSC BOARD <Space>
HSC Roll<Space>
HSC Registration <Space>
HSC Passing Year <Space>
HSC BOARD <Space>
Quota if applicable
Send to 69669
Keyword For Quota for BAU Admission
Freedom Fighters — FF
Chittagong Hill Tracks — CH
Indigenous People (Out of Chittagong) — OT
Bangladesh Agriculture University BAU Faculty and departments
Bangladesh Agricultur University has six faculties. Under these six faculties, there are 45 departments. Among those, eighteen departments belong to the Faculty of Agriculture while only four ones belong to the Faculty of Fisheries. Here is the list of faculties with all departments.
Faculty of Veterinary Science
Department of Anatomy and Histology
Department of Physiology
Department of Microbiology and Hygiene
Department of Pharmacology
Department of Parasitology
Department of Pathology
Department of Medicine
Department of Surgery and Obstetrics
Faculty of Agriculture
Department of Agronomy
Department of Soil Science
Department of Entomology
Department of Horticulture
Department of Plant Pathology
Department of Crop Botany
Department of Genetics and Plant Breeding
Department of Agricultural Extension Education
Department of Agricultural Chemistry
Department of Biochemistry and Molecular Biology
Department of Physics
Department of Chemistry
Department of Languages
Department of Agroforestry
Department of Biotechnology
Department of Environmental Science
Department of Seed Science and Technology
Department of Food Safety and management
Faculty of Agricultural Engineering and Technology
Department of Farm Structure and Environmental Engineering
Department of Farm Power and Machinery
Department of Irrigation and Water Management
Department of Food Technology and Rural Industries
Department of Computer Science and Mathematics
Faculty of Animal Husbandry
Department of Animal Breeding and Genetics
Department of Animal Science
Department of Animal Nutrition
Department of Poultry Science
Department of Dairy Science
Faculty of Agricultural Economics and Rural Sociology
Department of Agricultural Economics
Department of Agricultural Finance
Department of Agricultural Statistics
Department of Agribusiness and Marketing
Department of Rural Sociology
Faculty of Fisheries
Department of Fisheries, Biology and Genetics
Department of Aquaculture
Department of Fisheries Management
Department of Fisheries Technology
How to Pay the BAU Admission Fee?
BAU admission fee is set BDT 700 for undergraduate candidates. The admission fee can be paid via DBBL or any recognized agent banking like Bkash or anything else.
Fee BDT 700
Biller ID : 336
How to Check the Payment Status?
A student might face problem in case of getting payment status after sending admission fee via SMS or agent banking. In that case, students are suggested to contact the authority concerned via email (Admission@bau.edu.bd). A student, therefore, needs to save the SMS and the transaction ID to show evidence.
Note : save the transaction ID
To Check the Payment Status write SMS with try the following Formate MMS <space> BAU <Space> Pay <space> Bil Number
Sent to 6969
Admission Test Process: admission.bau.edu.bd
A student would be subjected to 200 marks. 100 marks will come from directly SSC and HSC results. Another 100 marks have to be obtained sitting admission test directly.
Was this article helpful?