Before telling you Xiaomi Redmi Note 4 Price in Bangladesh, let me tell you everything you should know about this device before you make up your mind to buy it.
Xiaomi Redmi Note 4 has some great features and specification that its older version lack. The device is getting quite popular within very short time.
If you are looking for the Xiaomi Redmi Note 4 Price in Bangladesh and detailed discussion on its features, specification, and everything one may need to know before buying it, you are in the right place.
After the successful marketing of Xiaomi Redmi Note 3 all over the world, the profit was over 1 billion. In terms of market acquiring Xiaomi got much more success than any other brand so fast.
That's the reason everyone keen to know the updates about their new device. So, Xiaomi Redmi Note 4 price in Bangladesh, specification, and features will be discussed in this article. Dig in.
---
Related Posts:
---
Xiaomi Redmi Note 4 Availability in Bangladesh
Note 4 launched in January 2017. This device is available in Bangladeshi markets right now. From any local mobile store or its official showrooms, you can get this phone. But I suggest to check for the original one, duplicates and clones are everywhere these days.
Xiaomi Redmi Note 4 Major Specification
Why Note 4 from Xiaomi got immense popularity? One of the main reason is the low budget tag with excellent specification. I mean they pull off best on this phone. Comparing to high end and branded mobile phone set, this device showed remarkable improvement.
From the specification, Xiaomi Redmi Note 4 has great perspective competing branded phones. The desire to wrestle against any branded phones, let them leave no flaws. This device has an excellent specification, features, and design though it's not costly at all. Maybe that's the reason of this brands arise and be the unbeatable boss in low tag phone industry.
Body
The dimension of this phone 151 x 76 x 8.5 mm, slimmer than a pen. A cool feeling on hand using a phone thin like that. Metallic body with a 2.5D curved-edge glass up front gives this phone a classic look. The weight of this phone is 165g approx.
Note 4 is better than the Xiaomi Redmi Note 3 regarding weight and slimmer. Both are great phones, but the updated version is always the coolest one.
Display
5.5 inches display built in IPS LCD that comes with 16 million colors. It's full HD, the resolution is 1080 x 1920 pixels, and the PPI density is 401%. Multi touch option – yes, up to 10 fingers.
The phone does have a great facility for readers, if you are one, switch on the reader's mood for the blue light filter. It will help your eye from extra strain.
Platform
MIUI 8 based on Android 6.0.1 Marshmallow is the primary OS for Xiaomi Redmi Note 4. MIUI8 is getting easier and smoother with time. It has great features and customized apps for Xiaomi phone sets.
According to the news, Xiaomi producers trying Android 7 nougat in MIUI8 and hopefully we will get it soon. Though this phone uses an old version of Android, still their performance is worth comparing with top brands.
Colors
The latest Xiaomi devices come with three colors, and they are
Black
Gold
Dark Grey
Processor
The Xiaomi Redmi Note 4 used an octa-core processor, Qualcomm Snapdragon 625 which clocked at 2GHz with an integrated Adreno 506 GPU.
The new processor is updated and stronger than the previous one. To give the maximum satisfaction to users who will use this phone.
Memory
Xiaomi is selling three variants, and they have different memory capacity.
2GB Ram Phone – 32 GB ROM
3 GB Ram Phone – 32 GB ROM
4 GB Ram Phone – 64 GB Rom
For external memory, microSD is up to 256 GB extendable.
Camera
13 MP CMOS rear camera with an aperture of f/2.0 added on this device and 5 MP in the front. After the previous failure in camera, Xiaomi added quite an improvement in Xiaomi Redmi Note 4. The camera has great sensors and editing software.
Battery
The phone has a Non-removable Li-Po 4100 mAh battery, which is endurable and last long enough compared to other devices.
Features of Xiaomi Redmi Note 4
Xiaomi Redmi Note 4 has some great feature specially built within it. Let me mention few of them here.
Dual Apps
Dual apps is a great feature helps you to run same apps on two different premises. For the people who use double sims, they can install any apps twice in their phone according to their needs.
Second Space
This feature to help you use your space differently as per your requirements. You can use one for public and one for private. It's better to have a space of your own even on your phone.
Professional Photo Editor
MIUI8 has built in professional photo editor. So now you don't need to install third party apps from play store to edit your photo. You can customize and edit photos as per your need with the help of your phone apps.
Scrolling Screenshot
If you use branded phones which cost 3 to 4x than Xiaomi, you might have already familiar with this features of taking a screen shot while scrolling. Start the option from your upper volume key press done when its finish. This way one can take one full web page screenshots.
Super Calculator
What you expect from a calculator, just do some counts? But not now. With this super calculator currency, temperature, speed, area conversions and even play out your mortgage loan payments is super easy. Own this phone or want to buy? You better be habituated using these features to taste better satisfaction.
Extra Free Storage
Xiaomi Redmi Note 4 comes with great ROM, which can be useful in many ways. After installing all the apps and insert necessary files on your phone, the extra free storage can come handy.
Xiaomi Redmi Note 4 Price in Bangladesh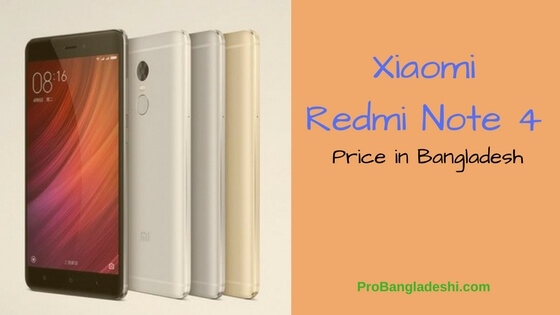 As we have already mentioned, this device is a low budget phone and within the reach of maximum people. Its Price in Bangladesh is – BDT 16,390. And Xiaomi Redmi Note 4 Price in India is INR 11,000 to 13,000.
Summing It Up
Xiaomi Redmi Note 3 was best-selling phone last year. As a successor Note 4 came into the market and they have done huge business already. The design, extended battery, and other facilities this phone has can be the reason of tough competition with any branded phone. In Bangladesh, this device has a tremendous impact with lots of fan base.
A competitor such as Hawaii, Samsung, and other brands will quickly be in a fierce competition with Xiaomi Redmi Note 4. Though it has many facilities, some minor lacks such as hybrid SIM slot, lack of quick charging, and excess of preloaded apps and low light camera function problem can get better. May be in their new products Xiaomi Redmi Note 5.
Xiaomi sure does build an excellent device & everyone is talking about it. Let us know what you think about this device? We will always love to hear from you.
Was this article helpful?