Were you a student of 2020 HSC exam and seeking the way to know your result in a faster way?
Well, don't worry. I'm here to help you get your result quickly. I going to tell you all the process to know your HSC exam result before your friend does. Sounds great, isn't it?
HSC exam 2020 result will be published on 19th July 2020 after 2:00 pm on the Education Board Bangladesh Website.
At first, the result will be given to all educational institutes and then publish on the Education Board Results official website.
On this day, all the students over the country are excited to know their HSC result and then take preparation for the next step of their life.
What if you don't score well…? Remember the good students don't depend on the result only, they mentally become stronger whatever they get in the HSC result and jump on the next step to make their dream happen.
Keep in mind you may not score well in HSC exam. That doesn't mean you are a loser. Believe me, you are the one and you have something in you that nobody has. If you can nurture your inner power, the world will be on your feet.
HSC Result 2020 Server 1
HSC Result 2020 Server 2
Get HSC Result 2020 Online
To know your result quickly online you have to go to www.educationboardresults.gov.bd website. Now, let me tell you the process to know your result faster.
Very first after browsing the website you will see a form on the web page like the following one. You have to fill up every step of the form carefully.
STEP 1: Choose your exam type from the options HSC/Alim, HSC (Vocational), HSC (BM).
STEP 2: Select the present year (2020) from the drop-down menu.
STEP 3: Select your education board from the education board list (Barisal, Chittagong, Comilla, Dhaka, Dinajpur, Jessore, Rajshahi, Sylhet, Madrasah, Technical or DIBS).
STEP 4: Type your exam roll number on the Roll No. field.
STEP 5: Type your registration number on Registration field.
STEP 6: Type the addition of two numbers which is provided on the left side of the form.
STEP 7: Click on the submit button to get your result.
Get HSC Result 2020 through Mobile SMS
You may also get your result faster by mobile messaging service. It will charge you 2.54 BDT for the service.
You need to know that you can preregister and the education board results SMS system will instantly send you the result when it is published online. The system is powered by Teletalk Bangladesh Limited. But you may send the message from any mobile operator number and avail the service.
How to Get HSC Result 2020 through Mobile SMS
Firstly: You need to go to your mobile message option.
Secondly: Type HSC <space> first three letters of board name <space> roll number <space> 2020. For example, (of Sylhet board): HSC sly xx xx xx 2020.
Note: This xx xx xx will be your Roll No.
Finally: Send it to 16222.
In a reply message from 16222, you will get your result.
How to Get HSC Result 2020 via Android App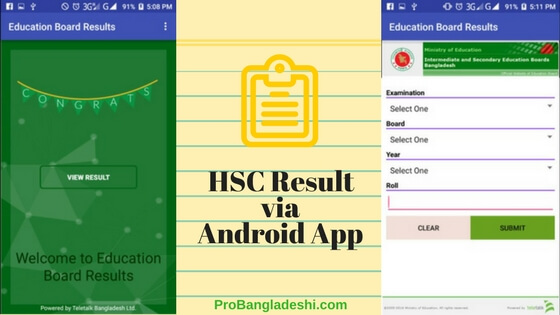 All the smartphone users could check their result of HSC exam 2020 by an Android App. Well, first of all, you need to download the app from Google Play Store.
So initially, you need to go Play Store on your mobile phone and type BD Results App in the search box. This app is powered by Teletalk Bangladesh Limited. A smartphone user can get JSC, JDC, SSC, HSC and other results via this app.
Install the app on your mobile. Then open the app and follow the instructions to check your result fast and free. Provide necessary information like exam type (HSC/Alim/Madrasah/Tech), board name, passing year (2020), roll no., registration no. Finally hit the submit button and get your result instantly.
Some Information about HSC Exam 2020 Bangladesh
This year 11, 83, 686 students participated in HSC/Alim and equivalent examinations under eight general education boards. Here is all the information about the HSC exam 2020 at a glance.
Total participants: 11, 83, 686
Total attendant boys: 6,35,697
Total attendant girls: 5,47,989
Institutions: 8,864
Total Examination Centers: 2, 947
Student from Science group: 2,17,512
Student from Humanities group: 4,98,005
Student from Business Study: 2,67,257
The theoretical exam of HSC exam 2020 was 2 April- 15 May and the practical exam was 16 May – 25 May.
Among the general education boards, the highest 3,36,693 examinees were appearing under the Dhaka Education Board and consecutively 1,23,616 under Rajshahi Education board, 1,06,772 under Dinajpur Education Board , 1,04,129 under Jessore Education board, 1,01,450 under Comilla Education Board, 83,193 under Chittagong Education Board, 65,368 under Sylhet Education Board, 61,562 under Barisal Education Board.
A total of 271 examinees were appearing at the HSC examination through seven overseas examination centers.
Was this article helpful?