Comilla University admission circular 2019-20 is finally here. This post will give you all information about COU admission 2019-20 and all that you need to do to get admission in Comilla University. Comilla University is known as COU in short.
For the academic year of 2019-20 Comilla University admission circular is already announced. Comilla University offers a number of subjects under six faculties. Test for Comilla University admission 2019-20 session will be conducted under 3 units.
Here, in this post, all these issues are subjected. So, read till the end and download the PDF version of the circular for later usages.
Important Dates And Matters
Application start off: 1st of September
Application deadline: 30th of September
Admission test: 9th November 2019
Total seats: 1040
Application process: online
Website: https://cou.ac.bd
Exam Type: MCQ
Total marks: 100 (0.25 mark will be deducted for each negative answer.)
You may also like to check: All Public University Admission Information Bangladesh [Latest Update]
COU Admission Circular 2019-20
Comilla university a state-sponsored reputed university recently published admission circular for the academic year of 2019-20 session. Admission test of Comilla University is on 9th November 2019 for all faculties.
The application process will be started off on 1st of September and will be continued 30th of September. The application must be done online within due time. Have a look on the circular issued by the university authority.
COU Subject List, Faculties & Units
Admission test will be conducted under 3 units. There will be 3 faculties and 19 departments. Read the circular and the post keenly then decide what to do.
Subject/Department wise Seat Distribution of COU
There are 1040 seats are available for the undergraduate students. Comilla University is dedicated to all levels of students – science, arts, and commerce.
With the minimum GPA of 6.00, an applicant can try for a seat in Comilla University. Look on the list below for more information.
Eligibility for Application in COU
To be eligible to seat for admission test in Comilla University undergraduate program, a candidate has to…
Pass SSC or equivalent exam in 2016 or 2017
Pass HSC or equivalent exam in 2018 or 2019
Have a total GPA of 6.50 in each exam
SSC before 2016 is not allowed
Have a quick look at the requirements according to the unit. Each unit has different requirements. Unit is categorized based on departments and faculties.
A Unit: Total GPA: 6.50 (only for science)
B & C Unit: Total GPA 6.00 (open for Science, Business Studies and Humanities)
GCE Level
An applicant for GCE level has to pass a minimum of 5 subjects in O Level and 2 subjects in A Level. Along with that, minimum B Grade is mandatory at least in 4 subjects out of this 7.
Additional Terms:
For the aspirants of the subjects of Mathematics, CSE, ICT, Physics and Statistics department, GPA 3.00 is to be ensured. And the students of Mathematics, CSE and ICT Mathematics would be subjected.
For the aspirants of the subjects of Chemistry and Biology GPA 3.50 is necessary.
For the aspirants of the subjects of English, GPA 3.50 (A-) in HSC would be saught.
Comilla University Admission Result 2019-20
To claim Comilla University result for the upcoming 2019 session, an applicant has to visit online. We will provide admission test result for 2019-20 session for undergraduate programs.
Along with that, Comilla University admission office will publish the result soon after it is ready.
For further information, you can bookmark our website for quick access. Any query related to admission test and result and all that, you can leave your question here in the comment box below.
You may also like to check: Chittagong University Admission Circular [Latest Update]
Comilla University Admission Circular PDF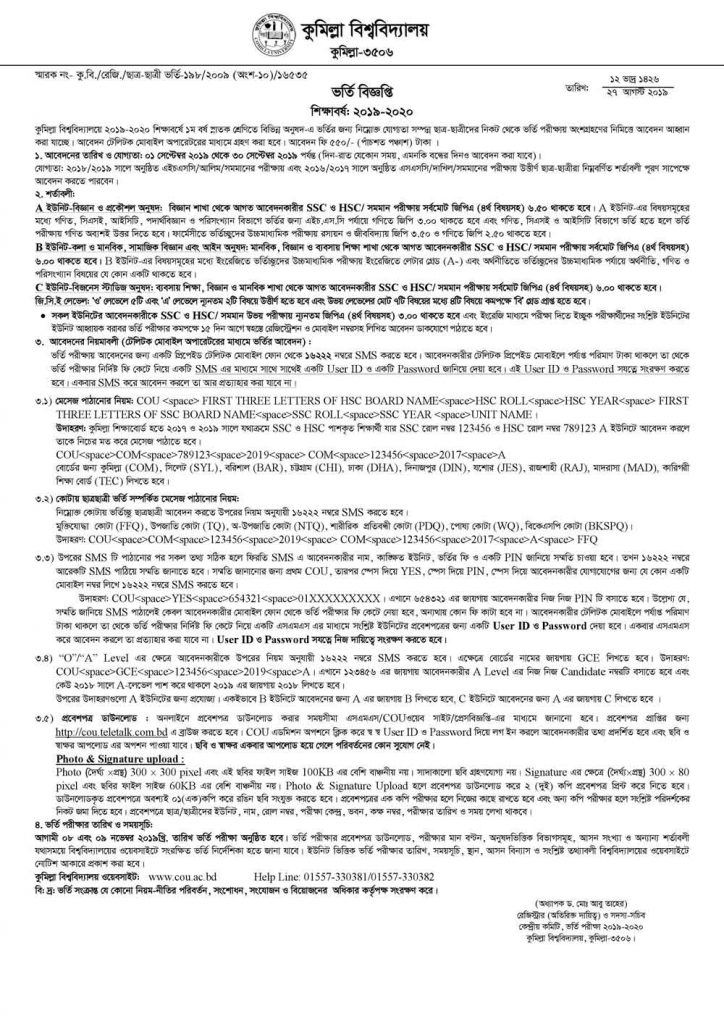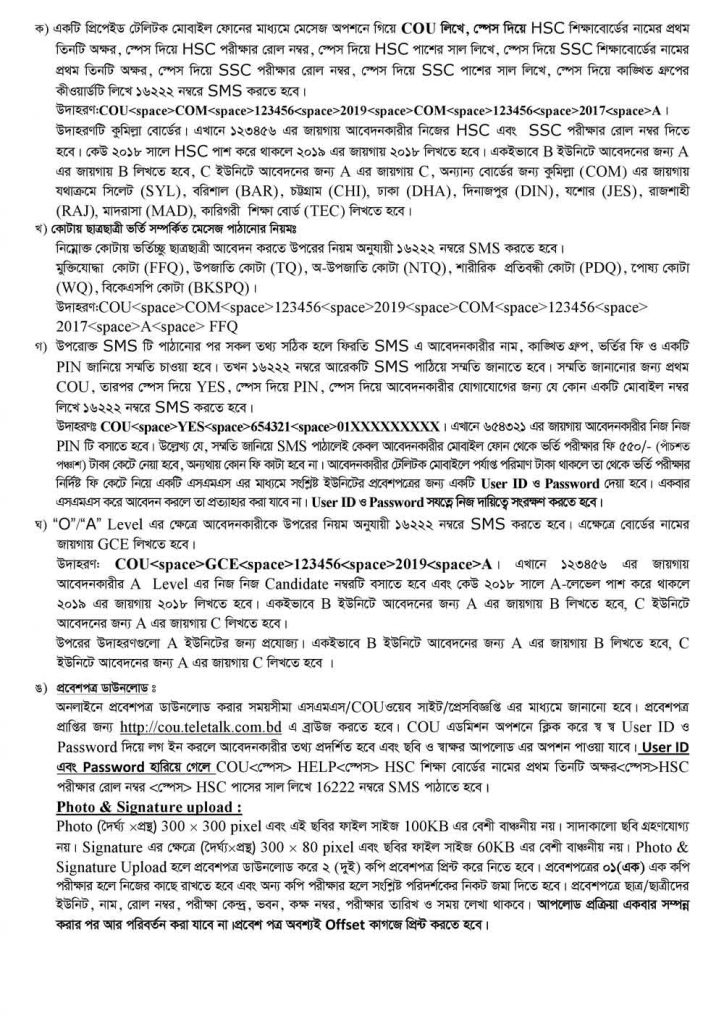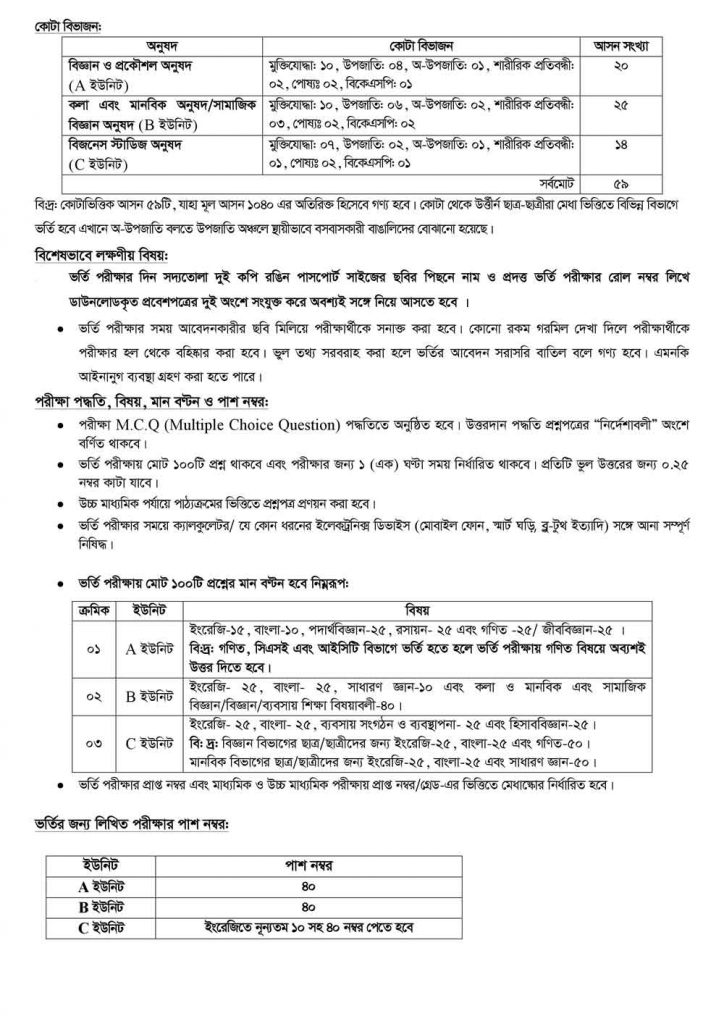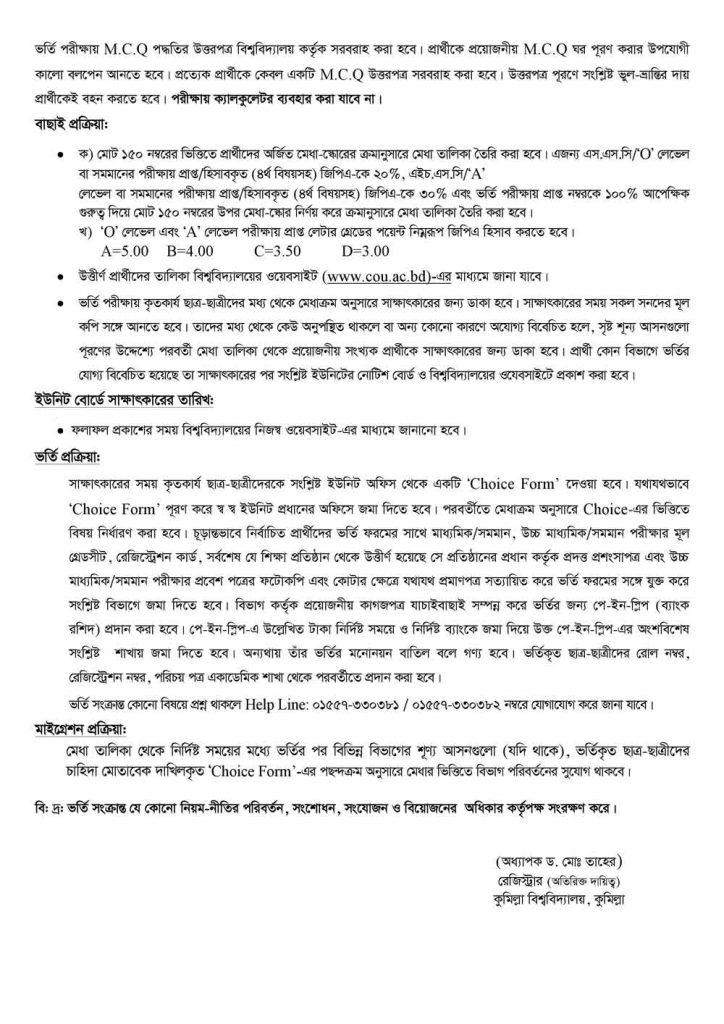 Comilla University Admission Quota

You may also like to check: Shajalal University of Science & Technology [Latest Update]
That's all about Comilla University admission circular 2019-20. We will update this post and add more information once they are officially available for the public.
If you are preparing yourself for COU admission 2019-20, please make sure you bookmark the site and check the updated version later. Best wishes to you.
Was this article helpful?